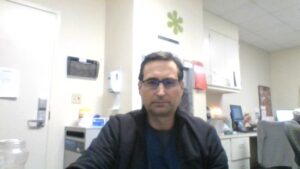 AccessRN is taking the opportunity to recognize some of our healthcare heroes who have made all the difference this year in providing the highest quality care to the patients we serve. Today, we're recognizing Todd, one of our vascular specialist nurses.
Todd has been a nurse for over 24 years. He chose, to go into healthcare after his own battle as a young person with multiple surgeries and recoveries. Inspired by the dedication and compassion of his providers, Todd chose to do the same for others and embraced his role as a nurse, and now, as a vascular specialist and part of the AccessRN team.
Todd lists relationships as the most rewarding part of his job, both with patients, providers, and coworkers who provide critical amazing care to their populations. Nursing is not always a glamorous job, and Todd has been fortunate to work in the trenches with some great people who show the same level of dedication, concern and desire to help that inspired him in the first place.
No matter how challenging the day may be, Todd knows that the smile from a relieved patient and the thanks from the team he's working with are the best rewards possible. When he isn't hard at work, he likes to unwind with his wife and children, or by riding around on his hot rod. They have three pets, Carl the chocolate lab, Chester the Chihuahua, and Cowboy the cat, all of who bring endless joy to the family, and help melt the stress of the day away.


As the healthcare industry weathers the storm this past year, it is providers and caregivers like Todd that make all the difference. A true healthcare hero who never stops putting his patients first, we're so fortunate to work with such an incredible person and a dedicated provider. Thank you for all that you do!